Lakeside is a well-stocked adult-only coarse fishing lake set in a rural location, open 365 days a year.
The lake covers approximately 6 acres with a maximum depth of 3.7mtrs/12ft, offering 45 pegs, several of which are wider than normal.
We do not hold matches nor do we allow night fishing.
Pegs can not be pre-booked, this makes it fair for everyone wanting to come and fish.
Day Tickets must be purchased prior to starting to fish, these are located in the Honesty Fishing Hut.
We regularly walk around the lake and Park and are always available if anyone has any queries or concerns.
Lakeside Coarse Fishing Lake was created by the current owner Richard Smith back in the late 1990s.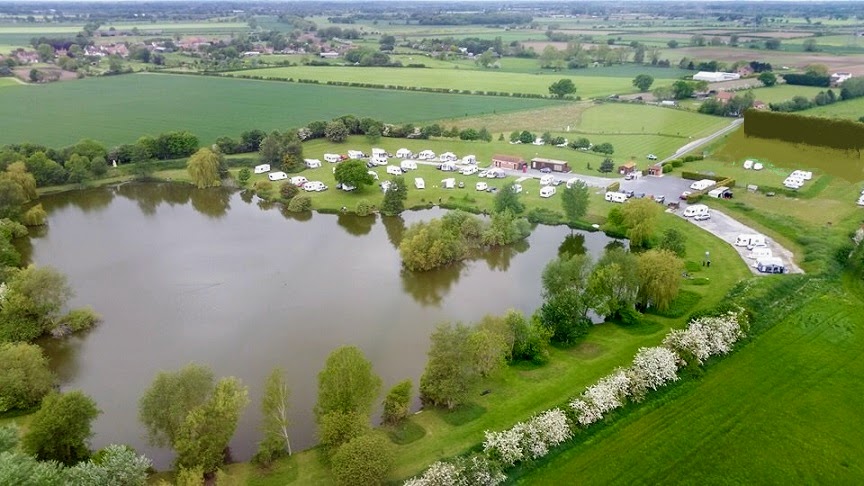 It has matured over the years and the aerial shot shows it has developed, unintentionally into the shape of a heart with an off-centre island, reed-fringed margins and lily pads.
Having the overhanging trees give the carp and tench a safe sanctuary away from anglers.
This also offers a wide variety of fishing for anglers of all abilities. It is excellent for anglers who like a challenge and like to test their skills.
Some of our regulars have been visiting us for years and are still learning our waters.
This mixed bag of fish we have has thrived over the years with carp pushing 29lb…..and beyond.
Other specimen size species are roach, rudd, ide, bream, perch, crucians, dace and chub.
We have a small shop at the fishery offering pellets, ground bait etc but no live bait. We also sell hot and cold refreshments.
A hardstanding car park provides a solid base to park your vehicle, no vehicles are allowed around the lake.
We have toilet facilities for anglers, separate for the ladies and the gents.
Attached to Lakeside Coarse Fishing Lake, we have an excellent caravan park and campsite, both adult-only.